exoTHAW - 40x25kg 'Non-Salt' Exothermic De-icer 1 ton - Calcium Chloride Formulation
exoTHAW - 40x25kg 'Non-Salt' Exothermic De-icer 1 ton - Calcium Chloride Formulation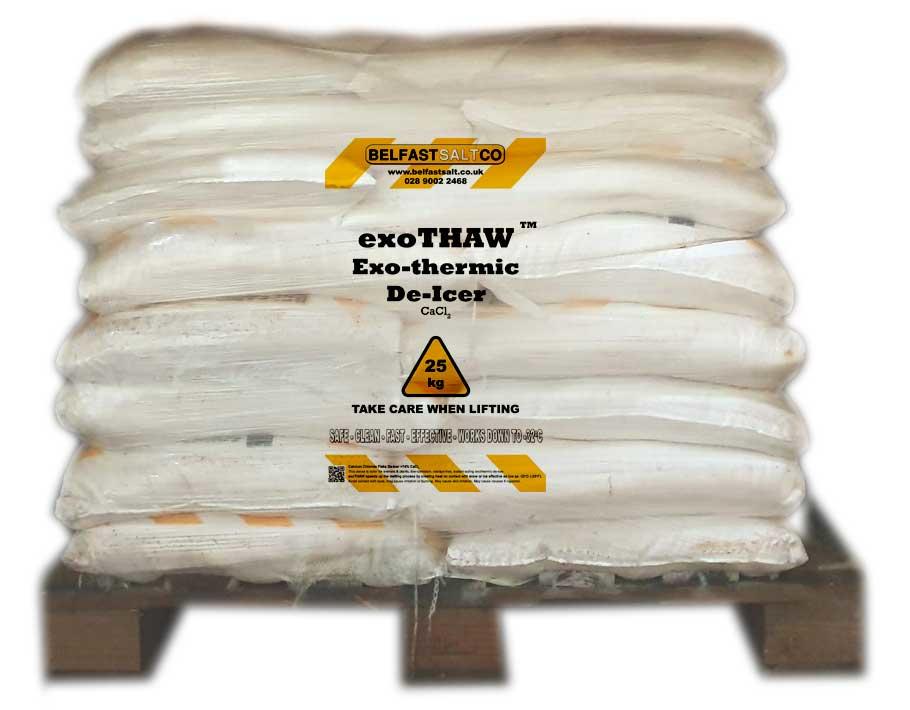 exoTHAW - 40x25kg 'Non-Salt' Exothermic De-icer 1 ton - Calcium Chloride Formulation


This 'non-salt' de-icer is a Calcium Chloride formulation. 
exoTHAW not only provides protection from ice down as low as -32°C but it is also kinder to concrete, metals, plant-life and animals. The reduced freeze/thaw cycles (due to the low freezing temperatures) protect concrete. This is a safe de-icer and conforms to the British Standards.
exoTHAW acts fast!
The exothermic reaction gathers moisture from the atmosphere as well as the snow and ice. It creates heats in this reaction which speeds up the melting process.
exoTHAW is a 77% Calcium Chloride formulation 'Road-grade' specifically for deicing
Available as :
exoTHAW exothermic de-icer 6kg tub
exoTHAW exothermic de-icer pallet of 60 x 6kg tubs
exoTHAW exothermic de-icer 25kg bags
exoTHAW exothermic de-icer 1 ton pallets of 40x25kg bags.
Please inform us if you do not have a forklift for offloading if you need 1 ton pallets of salt - these are delivered by haulier and they can only drop the pallet beside the furthest point of access by the truck. The haulier is not able to wheel the pallet on a pallet truck to other location.
** NOTE : Images are for illustration purposes only, actual product packaging may differ
exoTHAW - 40x25kg 'Non-Salt' Exothermic De-icer 1 ton - Calcium Chloride Formulation